A step beyond your average crypto wallet & exchange
Buy Bitcoin and other cryptos fee-free in EUR and GBP. Instantly convert to traditional currency, withdraw to your bank, and enjoy free* crypto transfers, all under the security of our EU-regulated platform.
Deposit by debit or credit card, Wire Transfer, or Trustly.
Trusted partner for crypto transactions since 2020.

Licensed by the Estonian Financial Intelligence Unit – VASP**.
Buy
and other available cryptocurrencies instantly
Your secure, EU-based, onshore-regulated crypto platform
Why Settle for Less? Choose Security. Choose Trust. Choose Zeply.Licensed in the EU, we prioritize your security and peace of mind. We have offices in Estonia and Malta.
Legal Protection
We're subject to the laws and regulations of the EU in Estonia.
Security
Strict security protocols protect your funds and data.
Transparency
Full disclosure of our financials and key information.
Compliance
Adherence to AML and KYC regulations to prevent illegal activities.
Internal and External Audits passed
Robust auditing mechanisms ensure financial integrity and operational transparency.
Whether you're a beginner, a trader on other platforms, or looking for a simple way to transfer to your Web3 wallet
All of you have one thing in common: the need for a secure, legal platform to buy a cryptocurrency and the ability to withdraw in Euro or GBP. Reliable 24/7 customer support at hand.
Access leading cryptos instantly
The most seamless way to buy cryptos and convert these coins into EUR or GBP and withdraw them to your bank accounts.
*Pricing data, all-time highs, and performance metrics on this site, covering the period from 2020 to July 11, 2023, are for informational purposes only and do not constitute financial advice.
How to buy, send, or exchange cryptocurrency to fiat on Zeply
Buy Bitcoin and popular cryptos with VISA, MC, Trustly, or Wire Transfer. Use Ethereum (ERC-20) and Tron (TRC-20) networks. Simple, secure, and fee-free. Convert crypto to Euros or GBP in your bank account.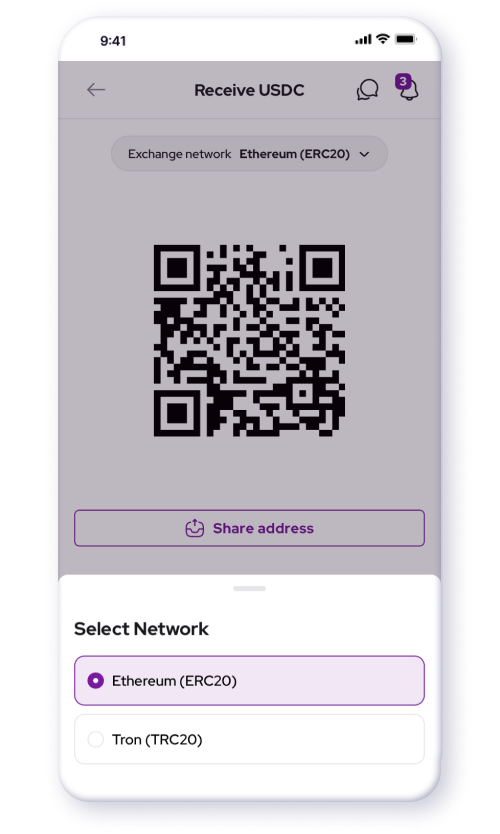 Make free and instant internal transfers
Send Bitcoin or other cryptos to friends and family instantly and without any fees. The more loved ones you invite to Zeply, the more convenient your transactions become.  Get rewards when your friends join.
Get rewards from our Referral Program
Our Referral Program is getting an upgrade! We're currently enhancing this program to better serve our users. During this time, the referral program is temporarily paused. But don't worry, you can still benefit from Zeply's platform.
Making Crypto Spending as Simple as Traditional Currency
Zeply is bringing you the convenience of spending your crypto directly without needing to sell it first. With our upcoming crypto debit cards, you can transact in millions of shops worldwide, receive salaries in cryptocurrencies, and exchange crypto for Euros. We're not just keeping up with the market – we're simplifying your crypto experience. Stay tuned!
Zeply Roadmap
Next release for 2023 Q4
Improved Zeply Business merchant platform with extended geographical coverage, and POS terminal support.
Development of plastic VISA crypto card.
Launch of ZeplyPay.com traditional financial service
Explore full roadmap
Keep your money safe with Zeply
Zeply operates with a full European banking license and your bank account is protected with a German IBAN. Complete safety with 2-Factor Authentication, fingerprint identification and advanced 3D Secure.
Simplified Registration
Account creation in 4 simple steps
Encrypted KYC
Your personal details are secure at all times
2-Factor Authentication
An extra layer of security to protect your account
Onshore regulated platform
Unlock Zeply's full potential
How to buy cryptocurrency?
Crypto markets have gained massive momentum over the past decade and everyone is looking to get involved with trading cryptocurrencies. To help you along your trading career, we have put together this page to detail how you can buy cryptocurrency.
Zeply Support: With you 24/7
Your finances are the only thing you need to place your focus on. Count on our professional Customer Support Team to help you answer any question you may have 24/7. So drop us a line, we are here for you.
Stay updated with Zeply
Unlocking the Future of Crypto with the New Zeply App
Are you ready to redefine your crypto experience? Look no further than the all-new Zeply App – your gateway to instant crypto transactions without fees when buying and making internal transactions with other Zepliers. Say goodbye to unnecessary charges and welcome a world where buying, selling, and withdrawing crypto is as simple as a tap. 
Ready to unlock digital value?